The School Security Guard Certification course is a 24 hour training course which meets and exceeds California Department of Consumer Affairs – Bureau of Security and Investigative Services (BSIS) and California Peace Officer Standards and Training (POST) requirements for school security guard working at school and college districts. This course meets the training requirements mandated by SB 1626 for Campus Security Personnel as defined in Education Code 38001.5 and 72330.5 and Business and Professions Code 7583.31.
This class is limited to public safety, campus safety, campus supervisors, school security, school safety personnel assigned to school districts (K-12); California Community College Districts. Students will learn the following topics: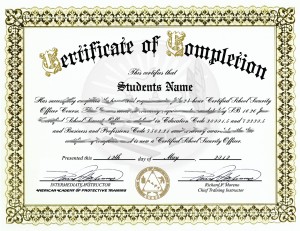 Role and Responsibility of School Security Officer (4 hours)

Laws and Liability (8 hours)

Security Awareness in the Educational Environment (3 hours)

Mediation/Conflict Resolution (4 hours)

Disasters and Emergencies (1 hours)

Dynamics of Student Behavior (3 hours)

Examination (1 hour)
Here are the steps for you to enroll in this course:
1. Fill out the New Account form with your details.
2. An email will be immediately sent to your email address.
3. Read your email, and click on the web link it contains.
4. Your account will be confirmed and you will be logged in.
5. Now, select the course you want to participate in.
6. If you are prompted for an "enrollment key" – use the one that your teacher has given you. This will "enroll" you in the course.
7. You can now access the full course. From now on you will only need to enter your personal username and password (in the form on this page) to log in and access any course you have enrolled in.